Curating Art
International Master programme in Curating Art, including Management and Law, 120 ECTS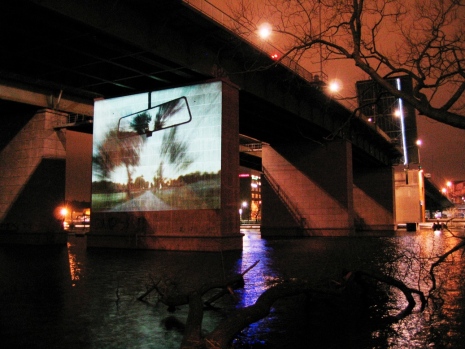 ©Stefan Otto: Fast forward/Fast rewind 2002, video. Still from a student exhibition in Stockholm 2007 by Anneli Bäckman and Alexander Benz. Photo: A Benz. By courtesy of the artist.
THE PROCESS OF EVALUATING ALL APPLICATIONS FOR NEXT COURSE (AUTUMN 2014) IS CURRENTLY ONGOING. NO INDIVIDUAL FEED BACK ON APPLICATIONS CAN BE PROVIDED AT PRESENT! THOSE APPLICANTS WHO BECOME SHORTLISTED FOR AN INTERVIEW WILL BE NOTIFIED AT VARIOUS TIME-POINTS DURING THE PROCESS AND INTERVIEWS ARE PLANNED FOR DATES BOTH IN LATE FEBRUARY AND MID MARCH. THE INTERVIEWS CAN BE PERFORMED EITHER IN PERSON OR ON SKYPE, AS AGREED.
APPLICANTS WILL BE NOTIFIED OF THE OUTCOME CENTRALLY, APPROX. BY END OF MARCH.
GENERAL INFORMATION ON THE PROCESS WILL BE PUBLISHED ON THIS WEBSITE CONTINOUSLY. ALL DATES ARE PRELIMINARY AND MAY BE CHANGED AT SHORT NOTICE.
PLEASE NOTE: DEADLINE FOR ALL APPLICATIONS WAS 15 JANUARY 2014, i.e. for both international and national applicants.WE REGRET THAT LATE APPLICATIONS ARE NOT ACCEPTED!
NEXT APPLICATION PERIOD FOR AUTUMN 2015 WILL START IN EARLY DECEMBER THIS YEAR, WITH DEADLINE 15 JANUARY 2015.
Curating Art is in equal shares an academic and practice based education. The programme was developed as a joint enterprise between Stockholm University and prestigious institutions in the art world. Its dual perspective combining academic demands and practice based experience is a fundamental aspect in courses, assignments, and examinations.
Last updated: March 7, 2014
Page editor: Nina Engholm
Source: Department of Art History